The Health Advantage Yoga Center, founded in 1991, is one of the oldest yoga studios in Northern Virginia. The majority of our instructors have taught yoga for over a decade, bringing a wealth of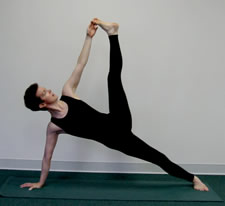 experience to our yoga center. All of our teachers are trained to work with a variety of students from those who are fit and active to those with physical limitations.
Classes are alignment-based with individualized attention to each person's optimal position in the poses. Instructors encourage students to listen to their bodies and move at their own pace. Courses are divided into levels so classes can be taught progressively to groups with similar knowledge and skills. Each class ends with deep relaxation.
The Health Advantage Yoga Center holds four sessions of classes per year plus workshops in related topics .Our studio offers a non-competitive and encouraging atmosphere, a flexible make-up policy for missed classes, and a beautiful light-filled facility. HAYC's intention is to assist students in the development of physical, mental, and spiritual wellbeing: a truly priceless health advantage.

Photo: Director Susan Van Nuys in side arm balance.